On Thursday 23 June, Geelong resident Donald Macintosh reached a milestone few people achieve, celebrating 100 years of life.
Over the last 10 decades, the centenarian has dealt with his fair share of hardships but believes his experiences only made him stronger.
At 18 years old, Mr Macintosh joined the Australian Defence Force during World War II. At 23 years of age, he faced a series of health problems from malaria to pneumonia and was sent back to Australia for hospital treatment.
"I had so many health problems happening. After the malaria and pneumonia was treated, my back started having problems. The hospital discharged me and said it was osteoporosis.
"I went back to work as a garment steamer and four years later my spine collapsed. They found out I had a strain of tuberculosis eating away at my spinal cord, so they put me in a body cast – from my ankles to my neck – and I had to lay like that for two years," Mr Macintosh said.
Although doctors were able to successfully treat the tuberculosis with several daily injections over 18 months, Mr Macintosh had to undergo bone grafting – which took a further six months of bed rest to fully heal.
"I had to learn how to walk again. My body was weak, and it took me a year of spinal brace wearing and rehab before I could walk properly," he said.
Despite this difficult time, Mr Macintosh went on to marry and have four beautiful children – all now in their 60's.
Mr Macintosh also landed a job that could only be described as a dream for many – a clerk at Carlton United Brewery where he worked for 28 years.
"It was a really wonderful job. I was never a drinker but back in those days you could have four beers a day while on shift!" he said.
Unfortunately, not long after retirement, Mr Macintosh went through a difficult marriage breakdown and found a hobby in ballroom dancing.
"After my wife and I separated, I started ballroom dancing and met a woman. We fell in love and got married when I was 62. We were together for 28 beautiful years," he said.
After his wife passed in 2011, Mr Macintosh began looking for a community to move to that would give him support, but also allow him to continue living independently.
"I ended up at Ingenia Gardens almost 12 years ago. I'm not frail and I like to do things for myself which is why I like living here. There's support if I need it and friendly staff and neighbours to talk to but I'm able to live here independently.
"I do all my cooking and laundry and until recently, I was still driving myself around. A few weeks ago, I got a call from Victoria Roads telling me they couldn't renew my license when I turned 100 – so disappointing but what can you do!" he said.
"Even though I'll be 100, I don't feel as old as my age and many people tell me I don't look a day over 75!
Mr Macintosh said his secret to a long life is having fun, eating good food and travelling.
"I spent much of my life in a caravan just travelling around Australia and I have such fond memories still."
When asked for a piece of wisdom for the younger generations on living a long life, Mr Macintosh was quick to respond.
"Don't smoke or drink and try to stay healthy! I'm the last one left of my six siblings – who were smokers and drinkers – and I reckon my healthy lungs and body is why."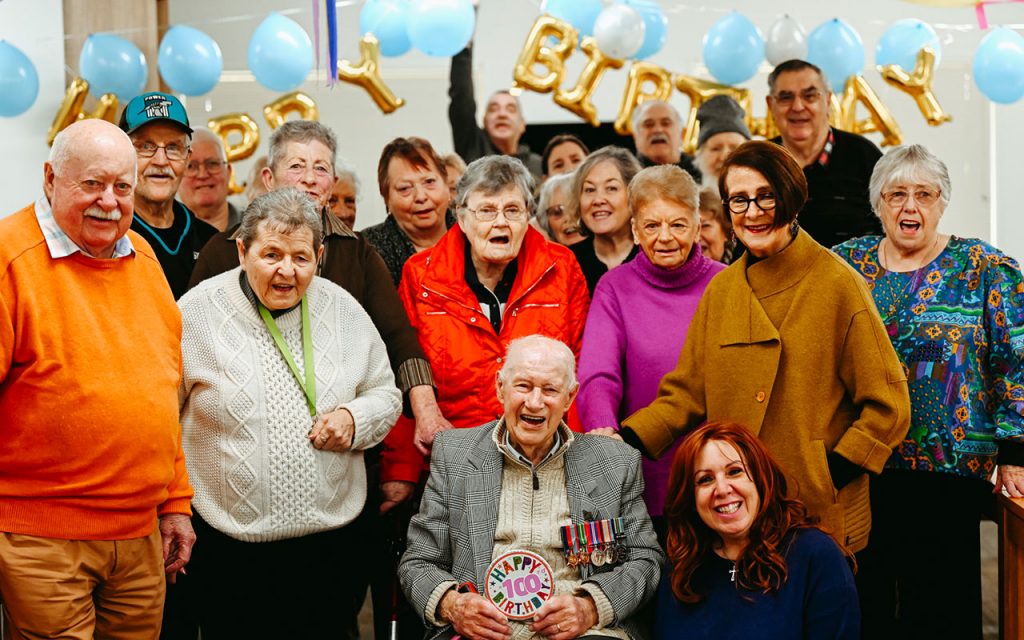 On Friday 24 of June, more than 40 neighbours and staff from Ingenia Gardens Geelong came together for a once in a hundred-year's celebration.
Ingenia Gardens Geelong Community Manager Ramandeep Kaur said the event was wonderful to be a part of and the first 100th birthday party for her and many of the residents.
"100 years is a great achievement. Mr Macintosh has seen so much in his 10 decades of life and we were all so excited to come together as a community and celebrate such a wonderful man."
"There was a great turn out and everyone had a fantastic time. There was music, food and beverages and you can't forget the birthday cake!
"Although we didn't manage to fit all 100 candles on the cake, Donald was still so appreciative of everyone showing up to help him celebrate."