On Thursday 25 March, ahead of Relationships Australia's Neighbour Day this Sunday, residents at Ingenia Gardens Yakamia celebrated Neighbour Day to recognise the power of community connection by holding a fun and festive Brazilian-themed lunch.
Combating social isolation has never been more important and the Ingenia Gardens Yakamia community is kicking loneliness to the curb, joining the rest of the nation in finding opportunities to creatively connect with their neighbours.
Ahead of the official day, the community gathered together for a Brazilian-styled lunch, where residents got to dress up in their most festive outfits and enjoy a fast-paced Brazilian dance performance by Antonia's Dance Studio Albany.
Ingenia Gardens Yakamia resident Joan Matters has lived at the community for two years and said she had been looking forward to the day all week so she could get together and chat with everyone.
"It's just lovely being able to catch up with everyone, especially now that restrictions have eased up – we're getting back to doing things a little bit like we used to," Mrs Matters said.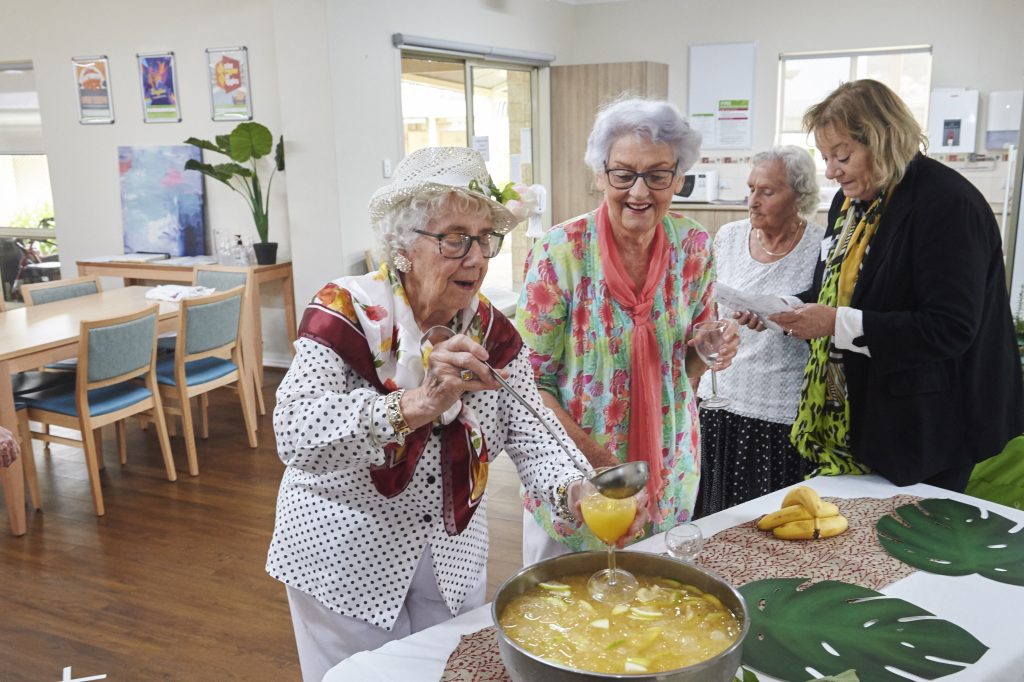 "It's very important that everyone keeps up with it all and doesn't just sit around – that's why it's so good to have lunches like this along with quizzes, games and the like that happens throughout the year.
Mrs Matters has a big family, with four children, 12 grandchildren and 14 great children who she stays in touch with regularly, but said she enjoyed having her independence and friendships at her Yakamia community

"We have bus trips and get together to play bingo, hoy, skittles and scrabble – sometimes people just get together in the community room to crochet or have a chat.
"We're all independent here, we don't have to answer to anybody and just come and go as we like. But we can make the most of being surrounded by good friends and neighbours – that's why I'm really glad we are celebrating Neighbour Day this year."
Ingenia Gardens Yakamia Community Manager Jennifer Lonsdale said the Neighbour Day initiative was something the residents felt was important to celebrate.
"It's a nice opportunity for the residents to mix and chat with their friends and other neighbours that they might not usually spend time with," said Ms Lonsdale said.
"Community connection is so important for older Australians, especially for those who may be living alone. Neighbour Day is a day when we turn the community activities up a notch and really encourage everyone to get involved.
"Our residents look forward to taking part in the various activities throughout the year. It gives them a sense of belonging and is an opportunity to do something a bit different.
Ms Lonsdale said the community embraced the theme of 'every day is neighbour day' year-round, with initiatives like the Activate program helping residents stay active and social.
With a mix of health and wellbeing programs like happy hour, game nights and celebrations, Activate helps foster social connection and encourages the residents to build and maintain friendships.
"The program has proven to be a brilliant way to prevent social isolation among Ingenia Gardens residents and also helps them maintain good health and wellbeing," said Ms Lonsdale.
Neighbour Day is an important initiative to help encourage community connection and raise awareness of the risks of vulnerability and loneliness.
To find out more about Ingenia Gardens Yakamia please visit: https://www.ingeniagardens.com.au/communities/western-australia/yakamia/