The combination of community spirit and a revamped wellbeing program Activate has allowed residents of Ingenia Gardens Taree to stay socially connected and active from the safety of their homes during the lockdown measures of COVID-19.
Ingenia Gardens Taree Community Manager Amanda Howton said that residents are used to getting together for regular social activities which is why it has been critical to find ways to create a social routine that was lockdown-friendly.
"My biggest concern during lockdown has been everyone's mental health, which is why we've really tried to engage the residents in the Activate program," Ms Howton said.
"Ingenia updated the Activate program to meet self-isolation measures and to include activities like weekly word searches, brain-teaser puzzles, in-home exercise programs and ideas on how to stay connected through technology," Ms Howton said.
"I've also arranged a daily home delivery of meals so that I can also distribute these activities and chat to residents – it has been really important to keep them engaged and to feel safe throughout this time.
"The residents have coped really well and have been looking after each other − the positivity in the village is a testament to the friendship and camaraderie of everyone here."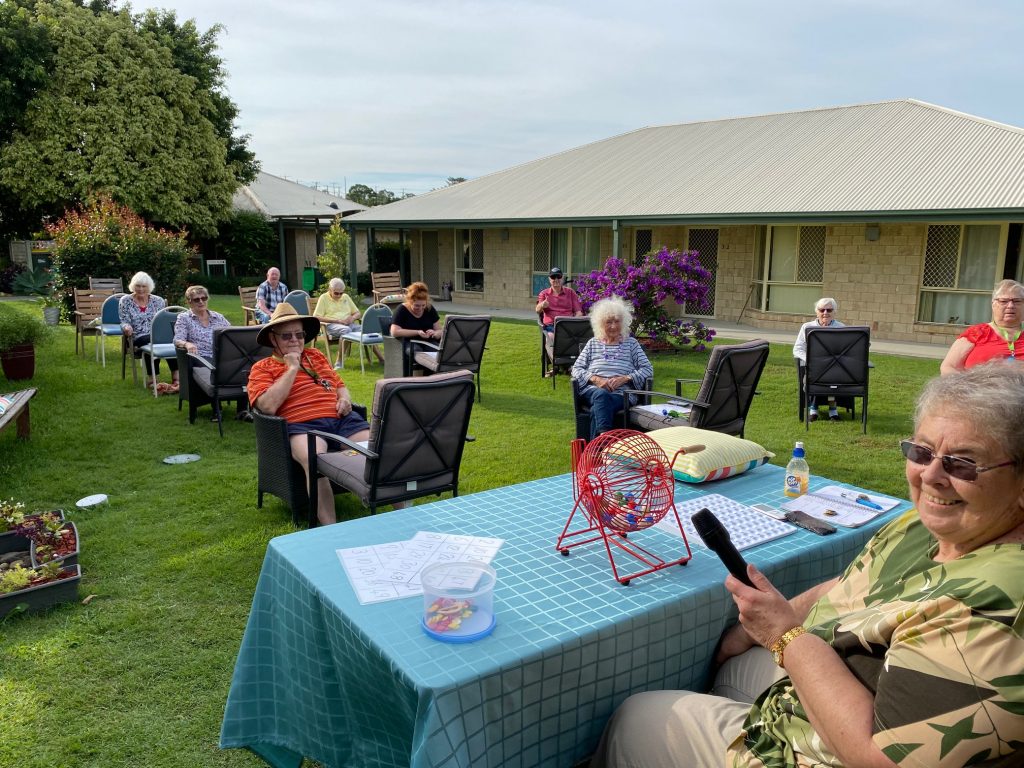 Ingenia Gardens Taree resident and president of the Social Committee Dot Stuart said the community spirit and connection have helped her stay positive throughout lockdown.
"Amanda organised socially distanced Bingo games for us outside with afternoon tea and that has been really lovely because it helps us get outside in the fresh air and we can talk to one another from a distance," Mrs Stuart said.

"A few of us would also go for a walk around the village three times a week for wellbeing checks on everyone − maintaining our distance − and people started to know what time we were coming around and would open up their doors and windows to wave or have a chat."
Maddie Simmons, fellow member of the Social Committee, found the loneliness of social isolation challenging but has been able to cope by talking to other residents and keeping herself entertained.
"The biggest drawback is not being sit down next to someone and have a decent chat and a giggle with each other without being miles apart, but we did our best all things considered," Mrs Simmons said.

"The Social Committee arranged for everyone to get little gifts so that the other residents knew we were thinking of them – just knowing that we were all looking out for each other was a big help.
"I also always have something to do to get me up and about, whether that's crocheting, diamond art, reading or getting outside in the garden – it's important to stay active and busy in some way."
To find out more about Ingenia Gardens please visit: http://www.ingeniagardens.com.au/