Spring has sprung across our communities and with gardens in full bloom, the residents have been taking advantage of the sunshine and fresh air by getting active in the garden.
Studies have found that the integration of green spaces in a community not only offers a place for residents to gather and socialise, but also helps reduce stress whilst promoting health, happiness and purpose. Dubbo Senior Community Manger, Pip Downey said, "The inclusion of a garden within the community is a great way to get residents involved in outdoor activity and give them a strong sense of purpose". Many of our residents have a green thumb and love getting outside to work in the gardens, which they take a lot of pride and joy in. For other residents, they find enjoyment being able to walk through the gardens to enjoy some peace and quiet or use the space to catch up with their fellow neighbours.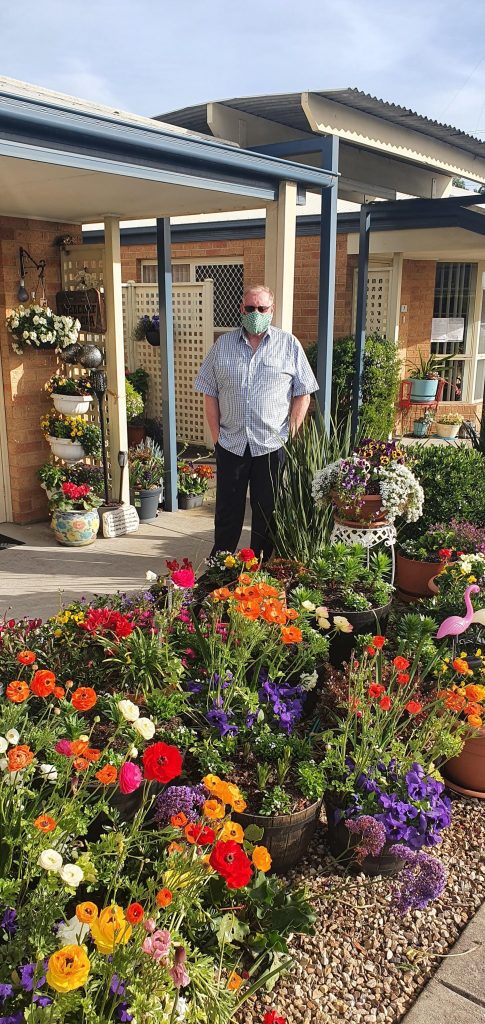 Grovedale resident, Errol Blocksage's (pictured) colourful flowers have burst into bloom, drawing a lot of attention from fellow residents who stop and admire his hard work. For residents Val Cole (Grovedale), Lloyd Martain, Jean Joyce and Ann Gatenby (Coffs Harbour), taking care of the communal vegetable garden has been so enjoyable and has provided a sense pride to see
their crops grow and also being recognised for their hard work by the other residents.

Residents of Yakamia (pictured) and Seascape are excited about their newly installed vegetable and herb garden which will be
used in the kitchen and available for all residents to enjoy.