The Christmas spirit was alive at Ingenia Gardens communities around Australia with many residents donating their time and effort to bring joy to struggling families.
Goulburn residents share the gift of joy
The annual Christmas Bethany Giving Tree Appeal and the Salvation Army benefited from the kind hearted residents at Ingenia Gardens Goulburn. The annual Christmas event saw residents mix n' mingle while giving back to the community, with one generous resident donating hand-made teddies. Resident Yvonne White has been knitting teddies for years and said donations were more important than ever this year. "This year Christmas is all about giving where we can, appreciating what we have and enjoying quality time together after being isolated for so long." "By getting together and donating what we can, we are helping those who might be struggling to find a reason to celebrate this Christmas." Community Manager Maryanne Cassells said that it was inspiring to see the residents come together and help others in need.
Bathurst donates to locals in need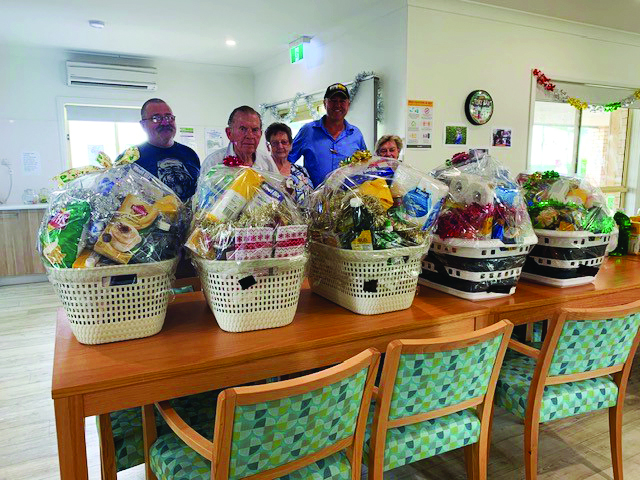 With locals struggling through another difficult year of fires and droughts, Ingenia Gardens Bathurst residents were keen
to support their community by throwing a safety net to local families. Residents pulled together food hampers stocked with pantry essentials, gifts of toys, clothes, books and puzzles. The hampers and gifts were distributed to local families
affected by fire, drought,
homelessness and domestic
violence.
Wagga Wagga give back to locals
The residents of Wagga Wagga gave double the love this past holiday season, supporting two local charities – Sisters Housing Enterprise and Ashmont Community Centre. "We're at the age now where we've got grandchildren and great-grandchildren, but it is nice to be able to give to somebody else that probably can't get these things together" said Gloria Eden, Social Committee Secretary. Community Manager Tony Reichelt said, "It is so wonderful to see the kindness of our residents and how they are always willing to give back to those who are in need, especially during Christmas."
Horsham digs deep
Donating items is nothing new for Horsham residents who run an annual Christmas food drive to collect donations for the Horsham Emergency Food Centre. Community Manager Barb Cavanagh said Horsham residents feel good giving back to the community. Our generous community donated three large laundry baskets full of everyday essential items. It was a great result given a lot of our residents are on the aged pension.